【Class 2 medicines】Takeda Benzaburocc S プレミアム Nasal Water Nasal Congestion Cold Capsules 24 Tablets
¥1,990

¥1,990
Tax included.
Shipping
calculated at checkout.
商品重量:0.03 kg
---
---
【Class 2 Medical Products】PenzapoロックSプレミアム (24 tablets)
【Product desciption】

Cold medicine that works for runny and stuffy nose
● Isopropylamine iodide and chlorpheniramine maleate relieve runny nose, congestion and sneezing.
● Tranexamic acid inhibits mucosal inflammation and relieves sore throat.
● Relieve phlegm
● Contains 10 ingredients to relieve various cold symptoms.

【Dosage】
It is best to take the following dosage with water or hot water within 30 minutes of a meal, without chewing.
Over 15 years old, 2 tablets at a time, 3 times a day
12~14 years old, 1 tablet at a time, 3 times a day
Do not quote under the age of 12
【Ingredient content】
6 capsules contain
Acetaminophen: 900 mg Isopropylamine Iodide: 6 mg D-Chlorpheniramine Maleate: 3.5 mg Tranexamic Acid: 420 mg Codeine Phosphate: 24 mg
dl Methylephedrine Hydrochloride 6 mg Aniline: 250 mg Caffeine Anhydrous: 75 mg Riboflavin (Vitamin B2): 12 mg Hesperidin: 90 mg Additives: Cellulose, Calcium Carboxymethyl Cellulose, Hydroxypropyl Cellulose, Magnesium Stearate, Corn Starch, Hypromellose, Copovidone, Talc,

Urine may turn yellow after taking this medicine, but don't worry because it is caused by riboflavin.
-------------------------------------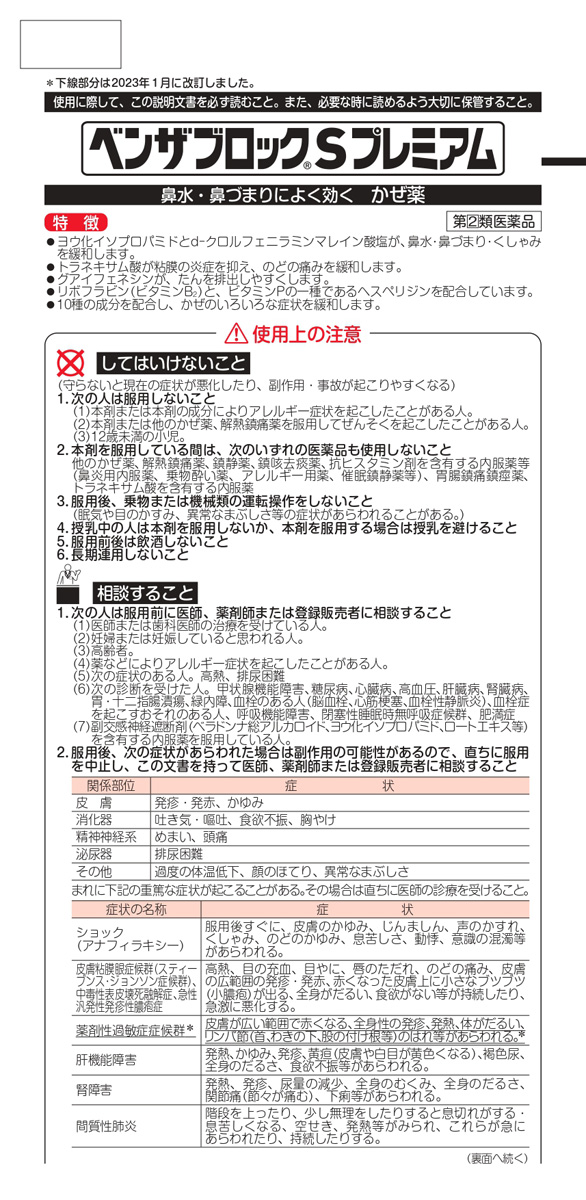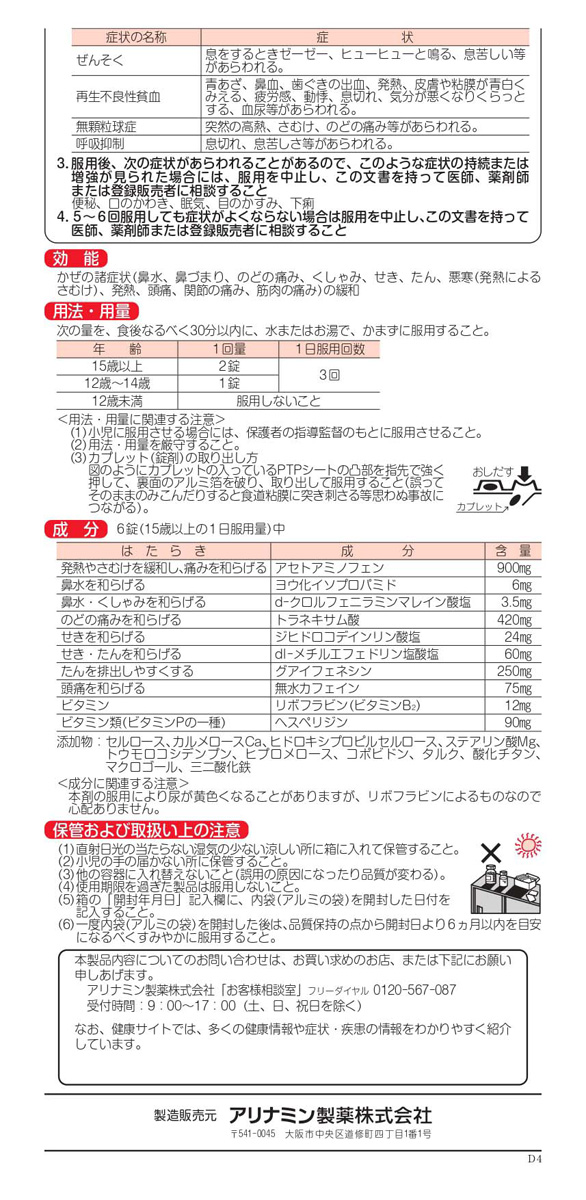 リニューアルににい, パッケージ, and content, etc., will be notified when it comes to changing occasions. To め ご 䁏 だ さ い.

Commodity classification: Designated second-class medicinal products

【Product details of ベンザブロックSプレミアム】
●ヨウ化イソプロパミドと d-クロルフェニラミンマレイン ヨウウソソプロパミドと d-クロルフェニラミンマレイン Acid 塩が, Nose water, Nose づまり・くしゃみを easing します.
●Tora ネ キ サ ム acid が mucous membrane inflammation を suppress え, の ど の pain み を ease します.
●グアイフェネシンが, たんを discharge しやすくします.
● リボフラビン (ビタミンB2) と, ビタミンP's a kind of であるヘスペリジンを with しています.
●The combination of 10 kinds of ingredients can relieve symptoms.

【Effective effect】

Alleviation of various symptoms of かぜの (nasal water, nose, headache, joint pain, muscle pain

【Dosage】
Take the amount of the next time, within 30 minutes after eating, take it with water, soup, and water.
(Year: 1 time: the number of times per day)
15 years and older: 2 tablets: 3 times
12 to 14 years old: 1 tablet: 3 times
Before 12 years old: take care
(1) Occasionally, when a small child takes it, and the protector's guidance and supervision are used for it.
(2) Usage and dosage

【Element】

Among 6 tablets (15-year-old or older, daily dose)
(ingredients: content)
アセトアミノフェン: 900mg
ヨウウイソプロパミド: 6mg
d-クロルフェニラミンマレイン Sodium: 3.5mg
トラネキサム acid: 420mg
ジヒドロコデインリン Acid: 24mg
dl-メチルエフェドリン塩acid: 60mg
グアイフェネシン: 250mg
Anhydrous カフェイン: 75mg
riboflavin (ビタミンB2): 12mg
ヘスペリジン: 90mg
Add objects: ス ル 、 ー ス, カ ル メロ ー ス CA, ヒドロキシ プロピ ル セ ル ロ ー ス, ス テ ア リ ン 酸, ト ウモロコシデ ン プ ン, ヒプロメロ ー ス, コポ リ ビド ン, タ ル ク, acidized チタ ン, マ ク ロゴ ー ル, Trinity ★ ingredientsがありますが, リボフラビンによるものなので心match ありません.

【Precautions】
★Note on use・してはいけないこと
(Shou ら な い and present symptoms が 悪 Hua し た り, side effects and accidents が こ り や す く な る)
1. 次の人は taking しないこと
(1) Ingredient of this genitalia によりアレルギー Symptoms をこしたことがある person.
(2) People who take this medicine, antipyretic and analgesic medicines.
(3) A 12-year-old child.
2. The use of this medicine, antipyretic and analgesic medicine, sedative medicine, antitussive and expectorant medicine, antitussive and phlegm-relieving medicine, anti-ヒスタミンるの medicine, etc.薬, アレルギー 薬, hypnotic sedative 薬, etc.), gastrointestinal analgesic and antispasmodic 薬, トラネキサムacid を containing する
3. After taking it, use it for the transportation of things and machinery.
(Symptoms such as sleep deprivation, abnormal condition, etc.)
4. The person who is breastfeeding should take this medicine and take this medicine at the occasion of breastfeeding and avoid it.
5. Drinking alcohol before and after taking it
6. Long-term use しないこと・Talk about
1. Before taking the medicine, the doctor and the doctor of medicine should be registered with the seller and talk to the seller.
(1) Physician Physician's Treatment Receivers.
(2) Pregnant women who are pregnant.
(3) The tall ones.
(4) 薬などによりアレルギー symptoms have been caused by people.
(5) People with symptoms of times. high fever, difficulty urinating
(6) The times of diagnosis are subject to people. Thyroid dysfunction, diabetes, heart disease, high blood pressure, liver disease, kidney disease, gastric/duodenal ulcer, glaucoma, thrombus (thrombosis, myocardial infarction, thrombophlebitis),
Thrombosis をこすおそれのある, respiratory dysfunction, obstructive sleep apnea syndrome, obesity
(7) Parasympathetic blocking agents (ベラドンナ淏アルカロイド, ヨウウソロパミド, ロートエキス, etc.) contain する orally administered している.
2. After taking it, the symptoms of the second time, the possibility of side effects, the possibility of side effects, the discontinuation of taking it directly, the doctor, the doctor, the doctor, and the seller.
(Relationship part: symptom)
Skin: Rash・Redness, Digestive Organ: Vomiting, Vomiting, Loss of Appetite, Chest Relief Mental System: めまい, Headache Urinary Organ: Difficulty urinatingが な Symptoms こ る こと が あ る.その occasion は Straight ち に Physician's diagnosis and treatment
(name of symptom)
ショック (アナフィラキシー) / Mucocutaneous Eye Syndrome (スティーブンス・ジョンソン Syndrome), Toxic Epidermolysis, Acute Pancreatic Eruptular Pustulosis / Liver Function Disorders / Kidney Disorders / Interstitial Pneumonia / Aplastic Pneumonia Anemia/Agranulocytosis/Respiratory depression
3. After taking, the symptoms of the secondary 状 状 あらわ あらわ れる こと で で で で で で な な な な の の の または 増 増 が ら れ た は は は は は は し し, こ の を を っ っ っ て て てすること Constipation
4.5~6 times of use
---
We Also Recommend
---