【Designated Class 2 Pharmaceuticals】Taisho Babolon GOLD A Tablets 210 Tablets
¥1,850

¥1,850
Tax included.
Shipping
calculated at checkout.
商品重量:0.184 kg
---
---
【product description】

Alleviates the symptoms of colds (runny nose, stuffy nose, sneezing, sore throat, cough, phlegm, chills, fever, headache, joint pain, muscle pain)
【Instructions】
Please try to take the following dosages with cold or lukewarm water within 30 minutes after a meal:

Over 15 years old: 3 times a day, 3 tablets each time

12 to 14 years old: 2 tablets 3 times a day

Under 12 years old: do not take

Be sure to follow the prescribed usage and dosage. When taking it for children, please use it under the guidance and supervision of parents.

Do not put lozenges that have been touched directly with wet hands, etc., back into the bottle. (May cause discoloration, etc. and affect the quality)
【Raw materials and ingredients】
3 ingots
Guaifenesin 60mg

Dihydrocodeine Phosphate 8mg

dl-Methylephedrine Hydrochloride 20mg

Acetaminophen 300mg

Chlorpheniramine Maleate 2.5mg

Anhydrous caffeine 25mg

Riboflavin 4mg

Additives: cellulose, anhydrous silicic acid, Magnesium aluminometasilicate, Hydroxypropylcellulose, Sodium starch glycolate, Lactose, Magnesium stearate, hardened oil, flavor, Vanillin, Benzyl benzoate
Urine may turn yellow due to taking this medicine. This is the effect of vitamin B2 contained in this medicine, so there is no need to worry.
【Precautions】
      The following are prohibited items:
(Failure to follow may cause current symptoms to worsen, or be prone to side effects or accidents)
Do not use if you meet the following conditions

Those who have experienced allergic symptoms due to this drug or its ingredients.

People who have taken this medicine or other cold medicines, antipyretic and analgesic medicines to cause asthma.

Children under the age of 12.

Do not use any of the following medicines while taking this medicine. Other cold medicines, antipyretic analgesics, sedatives, antitussive and expectorant medicines, internal medicines containing antihistamines, etc. (oral medicines for rhinitis, motion sickness medicines, allergy medicines, etc.)

After taking it, do not drive or operate vehicles or machinery (drowsiness, etc. may occur.)

Women who are breastfeeding should not take this medicine, or if taking this medicine, avoid breastfeeding

Do not drink alcohol before or after taking

Do not take it continuously for a long time
The following people should consult their physician or pharmacist before taking:
A person being treated by a physician or dentist.

Pregnant women or people who may become pregnant.

elder.

People who have had allergic symptoms due to drugs, etc.

People with the following symptoms. People with high fever and difficulty urinating who have received the following diagnoses. Thyroid dysfunction diabetes heart disease hypertension liver disease kidney disease stomach ulcer, duodenal ulcer glaucoma26-Jul-2019 1/2 page Respiratory dysfunction, obstructive sleep apnea, obesity

After taking the medicine, if the following symptoms appear, it may be a side effect, please stop taking it immediately, bring this document, and consult a doctor, pharmacist or registered seller

Skin: Rash, redness and itching

Digestive organs: nausea, vomiting, loss of appetite

Psycho-Nervous System: Dizziness

Urinary organs: Difficulty urinating

Other: Excessive hypothermia can rarely cause the serious symptoms listed below.

In this case, please seek medical attention immediately.

Shock (allergic): Itchy skin, urticaria, hoarse voice, sneezing, itchy throat, difficulty breathing, palpitations, confusion, etc. appear immediately after taking it.

Stephen Johnson syndrome, toxic epidermal necrolysis,

Acute generalized exanthematous pustulosis: high fever, bloodshot eyes, eye mucus, sore lips, sore throat, widespread skin rash/redness, small particles (small pustules) on reddened skin, general malaise, No appetite, etc. persist, or suddenly worsen.

Liver dysfunction: Fever, itching, rash, jaundice (yellowing of the skin and whites of the eyes), brown urine, general malaise, loss of appetite, etc.

Renal dysfunction: Fever, rash, decreased urine output, general swelling, general malaise, arthralgia (pain in each joint), diarrhea, etc.

Interstitial pneumonia: Shortness of breath, dyspnea, dry cough, fever, etc. may suddenly appear or continue when climbing stairs or exerting a little effort.

Asthma: wheezing, squeaking, difficulty breathing, etc. when breathing.

Aplastic anemia: bruising, nosebleeds, bleeding gums, fever, pale skin and mucous membranes, fatigue, palpitations, shortness of breath, malaise, dizziness, blood in the urine, etc.

Agranulocytosis: sudden onset of high fever, chills, sore throat, etc.

Breathing disorders: shortness of breath, difficulty breathing, etc.
After taking this medicine, the following symptoms may appear. If the symptoms persist or become severe, please stop taking this medicine and consult a doctor, pharmacist or registered seller with this document.
Constipation, drowsiness, dry mouth
If symptoms do not improve even after taking 5 to 6 times, please stop taking it, and bring this document to consult a doctor, dentist, pharmacist, or registered seller
Precautions for storage and use
Please store in a cool place away from direct sunlight and low humidity.

Please keep it out of the reach of children. Do not refill in other containers. (may cause misuse or product deterioration)

Do not replace with other containers

Do not take the product beyond the expiry date. In addition, even within the expiry date, once the product is opened, please consume it within 6 months. (to ensure quality)
【Classification of Medicines】
Designated Category 2 Medicines
【manufacturer】
Taisho Pharmaceutical
※Japanese products are frequently updated. If you receive a product that does not match the detailed picture, please refer to the actual product you received. In addition, after cross-border long-distance transportation, the outer packaging of the product may appear indentation, micro-damage, seal (if any) detachment, and the date of printing may be worn due to scratches and collisions, but it usually does not affect the quality of the product.
Designated category 2 medical products, please note (contraindication) on the use of medical products, please confirm ください. Log in to the seller, にご chat, ください.
----------------------------------------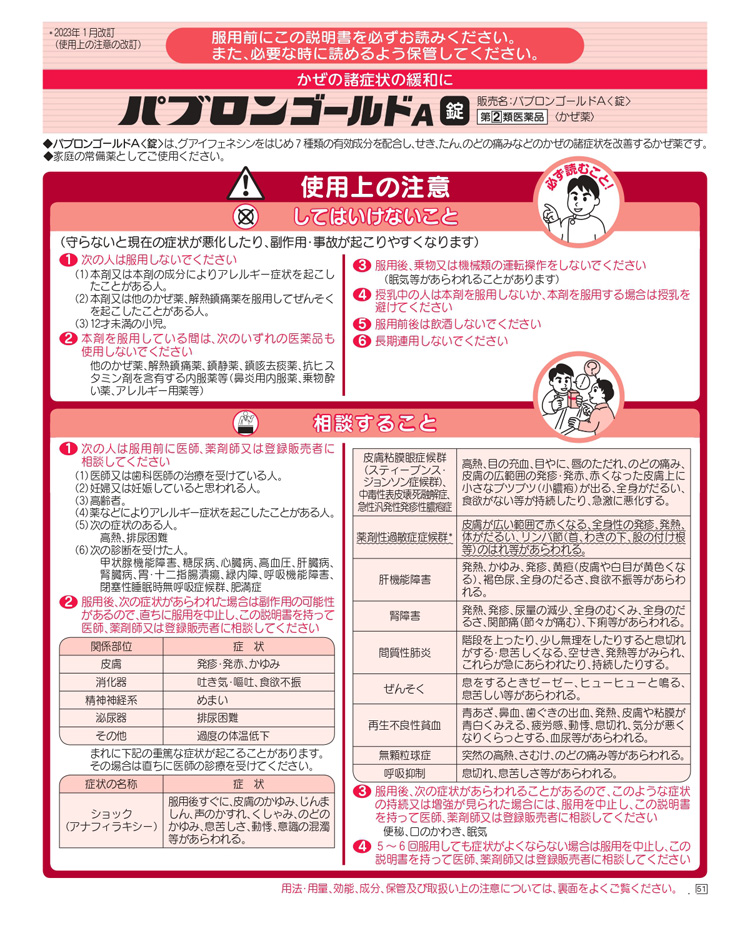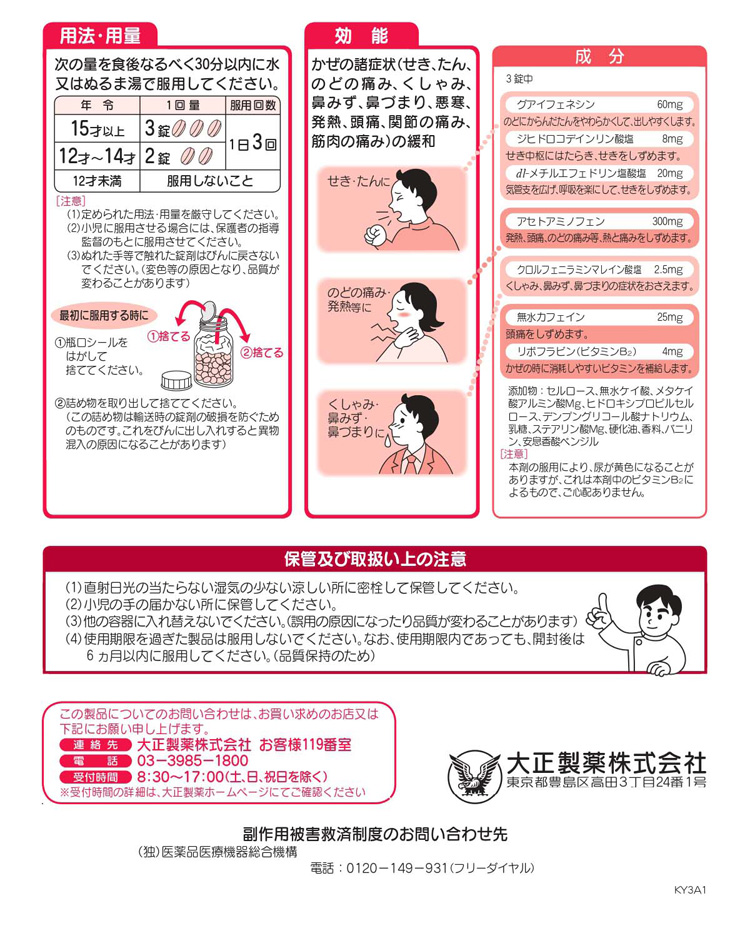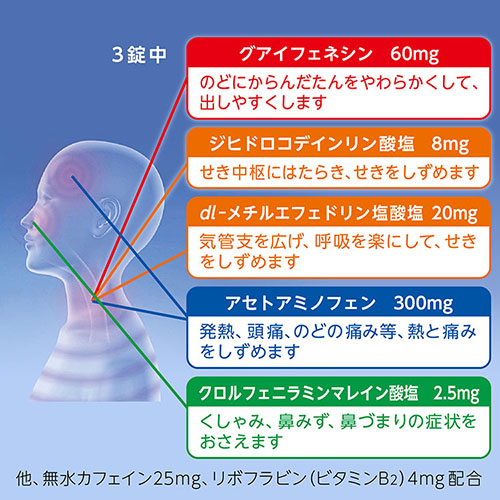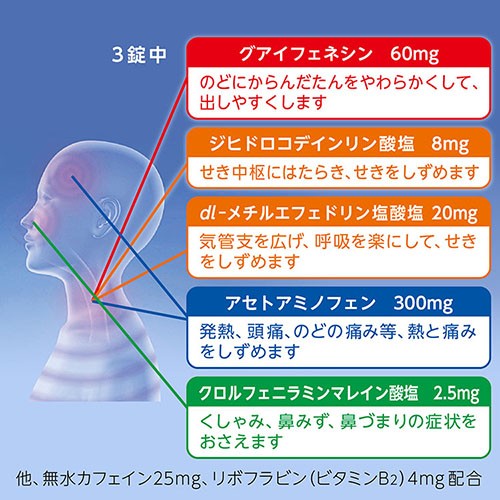 リニューアルににい, パッケージ, and content, etc., will be notified when it comes to changing occasions. To め ご 䁏 だ さ い.

Commodity classification: Designated second-class medicinal products

【Product details of パブロンゴールドA ingot】
● パブロンゴールドA (tablets), グアイフェネシンをはじめ 7 kinds of active ingredients, the combination of を, せき, たん, のどの pain, みなどのかぜの symptoms, can improve the symptoms.
●The family's standing 斬としてご use ください.

【Effective effect】


【Dosage】
Take the amount of the next time and take it within 30 minutes after eating.
(annual year: 1 time: the number of times of taking)
15 or more: 3 spindles: 3 times a day
12-14: 2 spindles: 3 times a day
12 years ago: taking しないこと

(Notice)
(1) Determination of usage and dosage.
(2) Occasionally, when a small child takes it, and if the protector's guidance and supervision is no もとに, take it.
(3) ぬ れ た で で れ た ingot 剤 は び ん に 戻 さ な い で く だ さ い. (The reason for the color, etc. となり, the quality が褉わることがあります)

【Element】

3 tablets of グアイフェネシン: 60mg
ジヒドロコデインリン Acid: 8mg
dL-メチルエフェドリン塩acid: 20mg
アセトアミノフェン: 300mg
クロルフェニラミンマレイン Sodium: 2.5mg
Anhydrous カフェイン: 25mg
riboflavin (ビタミンB2): 4mg
Additives: Celeros, Anhydrous Acetic Acid, Mg メタケイ Acid Albinic Acid, Mg ヒドロキシプロピルセルロース, デンプングリコール Acid ナトリウム, Lactose, テタケイ Acid Mg, Hardened Oil, Fragrance, バニリン, Benzoic Acid

(Notice)
により of this medicine, yellow urine, になることがありますが, これは本剤中のビタミンB2によるもので, ごありません.

【Precautions】
★してはいけないこと
(Shou ら な い and present symptoms が 悪 Hua し た り, side effects and accidents が こ り や す く な り ま す)
1. The person who takes the next time is taking しないでください
(1) The ingredients of the original and the ingredients of the original are those who have symptoms.
(2) People who take this medicine, antipyretic and analgesic medicines.
(3) A 12-year-old child.
2. Take this medicine and use it
Other herbs, antipyretic and analgesic herbs, sedative herbs, antitussive and phlegm-relieving herbs, anti-ヒスタミン剤を containing herbs for oral administration, etc.
3. After taking it, you will be able to operate the machine again after taking it.
(Mianji, etc. があらわれることがあります)
4. The person who is breastfeeding should take this medicine and take this medicine at the occasion of breastfeeding and avoid it.
5. Drinking alcohol before and after taking it
6. Long-term use しないでください

★Talking about すること
1. Before taking the medicine, the doctor and the pharmacist should talk to the registered seller again.
(1) Physicians are also treated by physicians.
(2) Pregnant women are pregnant again.
(3) The tall ones.
(4) 薬などによりアレルギー symptoms have been caused by people.
(5) People with symptoms of times.
high fever, difficulty urinating
(6) The times of diagnosis are subject to people.
Thyroid dysfunction, diabetes, heart disease, high blood pressure, liver disease, kidney disease, gastric/duodenal ulcer, glaucoma, respiratory dysfunction, obstructive sleep apnea syndrome, obesity

5-6 times of use
---
We Also Recommend
---