【Class 2 medicines】サンテPC Santen PC blue eye drops 12ml/bottle
Regular price
¥900 JPY
Sale price
¥650 JPY
Unit price
per
Sale
Sold out
商品重量:0.035 kg
【Class 2 medicines】Sonte PC ( 12ml )/ サンテ
【Product Description 】
The blue light emitted from the monitors of computers and smartphones can gradually tire the eyes every day.
Sante PC Blue Light Eye Drops contain the maximum concentration of vitamin B12 and vitamin B6, vitamin B12 enhances the focus control function of the eye, sodium chondroitin sulfate protects the cornea, and vitamin B6 activates the tissue metabolism of the damaged eye.

Eight ingredients are refreshing eye drops that improve eye irritation and fatigue.

【Function effect】
Eye fatigue caused by ultraviolet rays or other rays, conjunctival hyperemia, prevention of eye diseases (dust or sweat entering the eyes after swimming), blurred vision (a lot of mucus, etc.), itchy eyes, inflammation of the eyelids (sore eyelids), discomfort when wearing hard contact lenses

【Dosage】
1 to 3 drops at a time, 5 to 6 times a day.
*Do not use while wearing contact lenses
【Ingredient content】
Vitamin B12 (cyanocobalamin) 0.02%
Chondroitin Sulfate Sodium 0.5%
Vitamin B6 (pyridoxine hydrochloride) 0.1%
Neostigmine Methyl Sulfate 0.002%
Taurine 0.1%
Dipotassium Glycyrrhizinate 0.1%
Chlorpheniramine Maleate 0.01%
Tetrahydrozoline hydrochloride 0.03%

-----------------------------------------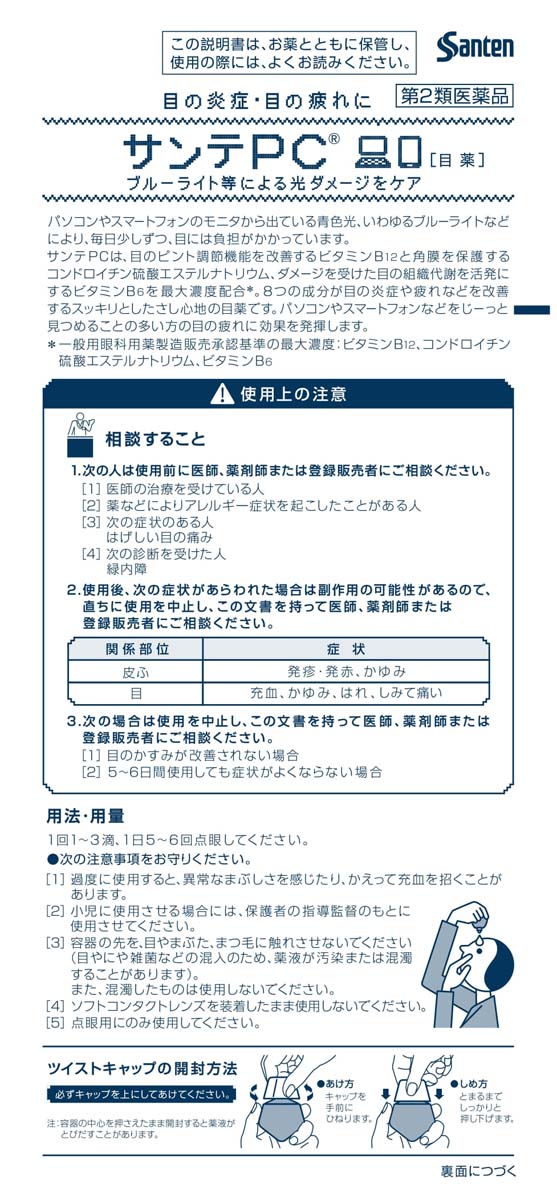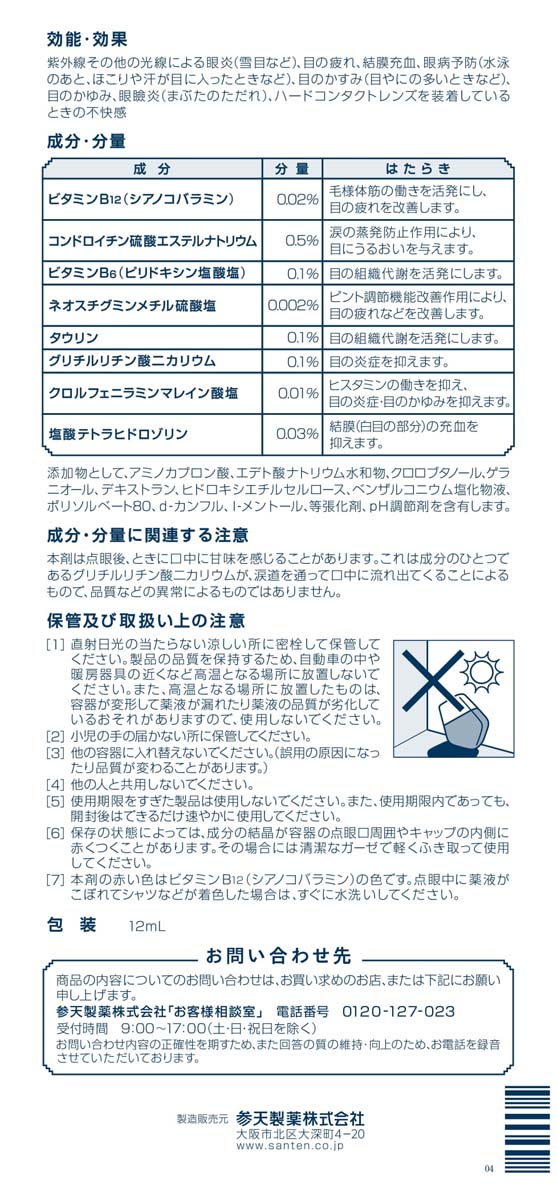 リニューアルににい, パッケージ, and content, etc., will be notified when it comes to changing occasions. To め ご 䁏 だ さ い.

Commodity classification: the second category of medical products

【Product details of サンテPC】
●パソコンやスマートフォンのモニタから出ているcyan light, いわゆるブルーライトなどにより, しずつ, にはてていつかかっていり.
●Sulfuric acid エステルナトリウム, ダメージを receptor るビタミンB12 and corneal protection するコンドロイチン sulfuric acid エステルナトリウム, ダメージを receptor をるタタタるを maximum concentration of tissue metabolism. 8 ingredients to improve inflammation, fatigue, and improvement.パソコンやスマートフォンなどをじーっと見つめることの多い方の目の exhausted れに effect を発wave します.
※Generally used ophthalmic medicines manufacturing and selling products approved the maximum concentration of the standard: ビタミンB12, コンドロイチン sulfuric acid エステルナトリウム, ビタミンB6

【Effective effect】

・Ultraviolet radiation , まかゆみ, blepharitis (まぶたのただれ), ハードコンタクトレンズを しているときの unpleasantness

【Dosage】
・1 to 3 drops per time, 5 to 6 times a day for eye application.
★Precautions for the next time
・Excessive use of す る と, abnormal な ま ぶ し さ を じ た り, か え っ て congestion, く こ と が あ り ま す.
・Use させる には in the case of 小児に, and use させてください for the guidance and supervision of the protector.
・Container's first, eye, eye, hair, touch, and touch.また, turbid したものは use しないでください.
・ソフトコンタクトレンズを use しないでください with したまま.
・Use してください for eye drops.

【Element】

ビタミンB12 (シアノコバラミン): 0.02%
コンドロイチン Sulfuric acid エステルナトリウム: 0.5%
ビタミンB6 (ピリドキシン塩acid): 0.1%
ネオスチグミンメチル Sulfuric acid: 0.002%
タウリン: 0.1%
グリチルリチン Acid dikarima: 0.1%
Crohn's Acid: 0.01%
Sour acid テトラヒドロゾリン: 0.03%
Add object: ア 、 ン acid, エデ ト acid ナ ト リ ウム ウム, ク ロロブ タノ ー ル, ゲ ラ ニオ ー ル, デキ ス ト ラ ン, ヒドロキシエチ ル セ ル ロ ー ス, ベ ン ザ ル コニウム 塩 塩, ポ リ ソ ル ベ ー ト 80, D-カ ン フ ル, L-メ ン ト ー ル, pH regulating 剤 剤 剤

【Precautions】
★Note on use
<Talking about すること>
・The second person should talk to the doctor and the doctor before using it.
(1) Physician's treatment
(2) こしたことがある
(3) Symptoms of the second time / The pain of the eyes
(4) Times of Diagnosis を Receiver けた / glaucoma
・After use, secondary symptoms, occasions, the possibility of side effects, direct use, discontinuation, documentation of products, physicians, and medical practitioners, please register with the seller.
(Relationship part: symptom)
Skin: rash, redness, かゆみ
Eyes: congestion, かゆみ, はれ
・In the next occasion, use it, stop it, and talk about it with a doctor, a doctor, a doctor, and a registered seller.
(1) To improve the situation of the eyes
(2) Use for 5 to 6 days in the event of symptoms and symptoms
★Caution on storage and retrieval
・When the direct sunlight is cool, it is safe to keep it. The quality of the product is maintained, and the heating equipment of the automobile is located near the high temperature and the place where it is placed. It should be placed in a place with high temperature and high temperature, and the quality of the container should be deteriorated, and the quality of the container should be reduced.
・Children's hands are kept at the place where they are kept.
・His container is replaced by えないでください. (The reason for misuse is になったりQuality が変わることがあります.)
・His person and shared しないでください.
・Expiration date をすぎたProducts はしないでください.また, within the expiry date, and after opening, use してください.
・The state of preservation, the crystal of the ingredients, the eyedrops of the container, the inside of the mouth, the inner side, and the inner side.その occasion に は clean な ガ ー ゼ で 軽 く ふ き fetch っ て use し て く だ さい.
・The color of the red color of the original is はビタミン B12 (シアノコバラミン). Dotted eye に斬liquid がこぼれてシャツなどがcoloring した occasion は, すぐにwashing いしてください