Merries Miao Ershu Jin Zhisoft Breathable Adhesive Diaper NB/S/M
¥1,888

¥1,888
Tax included.
Shipping
calculated at checkout.
商品重量:1.8 kg
---
---
【Product Description】
Helps maintain skin condition and help prevent red buttocks.
1.3 heavy and super breathable design. Say Byebye to moisture! Softly protect the baby's skin and stay away from the trouble of red butt.
2.2 kinds of soothing soft points are equipped, the large soft points continue to protect the baby's tender skin, and the small soft points double protection to prevent leakage!
3. The breathable polymer absorber of Jinzhisoft can absorb 200-300 times of water than its own weight.
No matter how much urine is produced at night, the baby can sleep well until dawn
4. Reusable Velcro. Intimate arc design and soft material, care for baby's skin, and can be repeatedly adjusted and pasted, very convenient!
5. Wetness display.
When the wetness indicator line turns blue, it means it's time to change the diaper!
In order to make it easier to identify the discoloration, there is no Miaomiao rabbit pattern near the diaper display. Isn't it very thoughtful!
【size】
Newborn (weight below 5000g)
S (weight 4-8kg)
M (weight 6-11kg)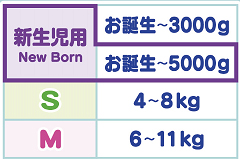 ※Japanese products are frequently updated. If you receive a product that does not match the detailed picture, please refer to the actual product you received. In addition, after cross-border long-distance transportation, the outer packaging of the product may appear indentation, micro-damage, seal (if any) detachment, and wear of the date of printing due to scratches and collisions, but usually does not affect the quality of the product.
---
We Also Recommend
---