MagMagcoron don't cry cup for 8 months and above
¥1,300

¥1,300
Tax included.
Shipping
calculated at checkout.
商品重量:0.3 kg
---
---
【Product Description】
★The baby can easily hold and drink it for the first time, and let the baby practice "drinking by himself" Coron Mo-Cry Cup series, which is also very convenient for adults to assemble, disassemble and clean!
★The suction mouth with gentle curve is designed to be just right for the baby's sip, and it is not easy to leak.
★The flow adjustment screw can adjust the water output, so that the baby is not easy to choke.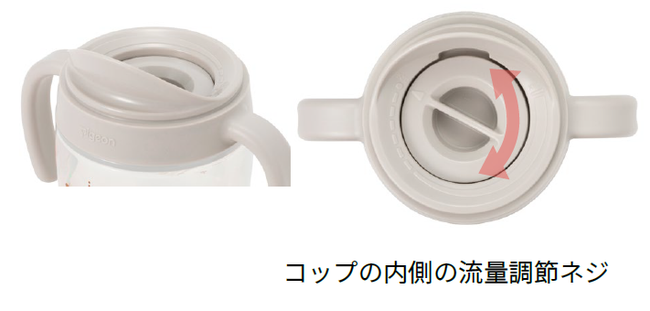 ★The wide-mouth bottle is easy to clean to maintain hygiene.
★Applicable age: more than 8 months ★Capacity: 200 ml.
★Size: W122×D75.5×H125
★Heat resistance temperature: 120°C
★Cold resistant temperature: -20°C
★Disinfection method: boiling, liquid medicine/sterilization tablet, microwave, steam disinfection
For other styles, please refer to MagMagcoron Mo crying cup straw
MagMagcoron No Crying Cup Pacifier
For replacement parts see MagMagcoron replacement handle
【Precautions】
1. Do not put hot drinks in this product, so as not to spray hot liquid from the suction mouth, causing burns.
2. This product should not be used for purposes other than drinking liquids for babies.
3. Do not place this product where infants and young children can touch it.
4. Do not put this product in the microwave for heating.
5. Please confirm that the parts are properly installed before use, so as to avoid leakage or accidental accident of the baby eating the parts.
6. Please be sure to let the baby use this product under the supervision of an adult.
7. Be sure to confirm whether the product is damaged, cracked or deformed before use. If the product is found to be damaged, please replace it with a new product as soon as possible.
8. Before the first use, please disassemble the parts and clean them.
9. Do not place this product near a fire source.
10. Do not put this product in the freezer to avoid damage.
11. The opening and closing of the bottle cap should be performed by an adult. Do not open the bottle cap when not in use.
12. Do not subject this product to strong shocks such as dropping.
13. Do not take the Moku cup with the formula milk out to avoid spoilage of the milk.
14. Please disassemble and clean all parts immediately after use.
15. This product cannot be washed in a dishwasher and dryer.
16. When carrying out, please put this product into a waterproof bag, and place the bottle cap up. Although this product is not prone to spillage, liquids may still leak out when shaken in action.
17. Please clean the vent valve with small force to avoid rupture.
18. This product is coated with white food additive powder to protect the suction port and ventilation valve.
19. The gasket may be stained by drinks such as juice and tea. If there are obvious black spots and dirt, please replace it with a new one.
※Japanese products are frequently updated. If you receive a product that does not match the detailed picture, please refer to the actual product you received. In addition, after cross-border long-distance transportation, the outer packaging of the product may appear indentation, micro-damage, seal (if any) detachment, and wear of the date of printing due to scratches and collisions, but usually does not affect the quality of the product.
---
We Also Recommend
---