[Class 3 pharmaceutical products] Kobayashi Pharmaceutical Periodontal Care Ointment 20g/bottle
Tax included.
Shipping
calculated at checkout.
商品重量:0.035 kg
---
---
【Category 3 medicinal herbs】 Kobayashi-made medicinal herbs ( 20g )
【 Product Features 】
Medication for periodontal disease, with excellent effect on various symptoms of gingival inflammation, gingival abscesses (such as pain, itching of the gums and bad breath) and stomatitis. Since it is a highly adhesive gel type, containing four active ingredients can stay in the periodontal pocket for a long time and function effectively, showing excellent effects.

【Function effect】
Relief of periodontitis and periodontal disease, various symptoms of stomatitis (bleeding, redness, swelling, pain, itching, sticky mouth, bad breath)

【Ingredient content】100g
Hinokitiol 0.1g Bactericidal action Cetylpyridinium chloride hydrate 0.05g Bactericidal action Dipotassium glycyrrhizate 0.4g Anti-inflammatory action Allantoin 0.3g Tissue repair action

【Dosage】
・Periodontitis/Alveolar purulence: After brushing your teeth every morning and evening, apply an appropriate amount (about 0.3g) to your fingers and to your gums.
・Oral ulcer: Apply an appropriate amount to the affected area 2 to 4 times a day.

-------------------------------------------------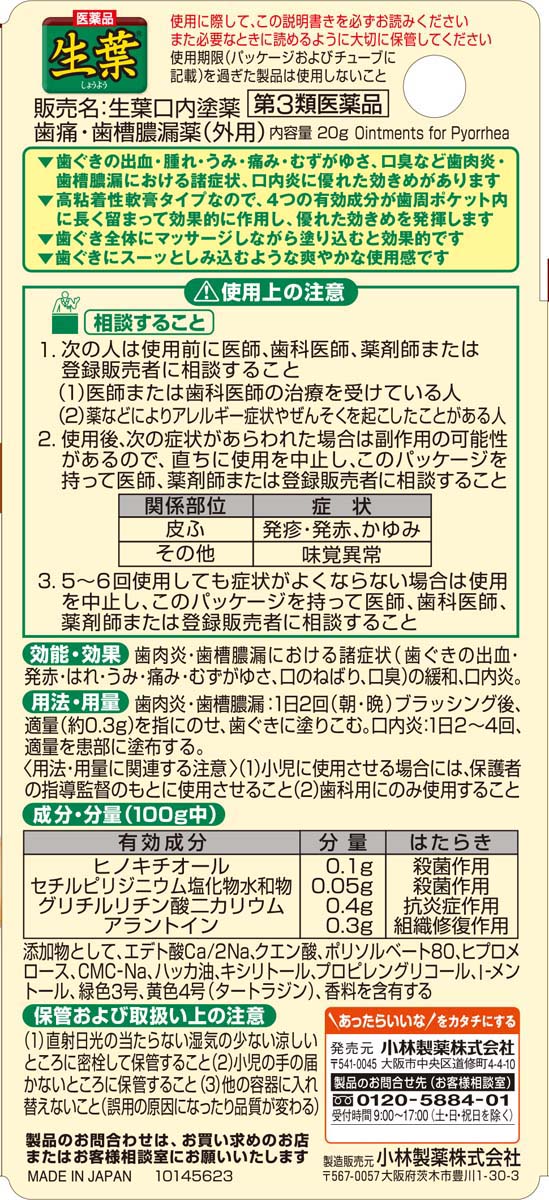 リニューアルににい, パッケージ, and content, etc., will be notified when it comes to changing occasions. To め ご 䁏 だ さ い.

Commodity classification: the third category of medicinal products

【Product details of Kobayashi's medicinal herbs inside the mouth】
● 血 の bleeding, swelling, うみ ・ ・ み ・ ・ むずが むずが むずが むずが ゆさ ど ど ど ど 歯 歯 ・ 歯 歯 における における における における における における における における に に れ た あ あ あ あ あ ● ● ●く ッ ト く く まっ まっ ト ト ト に し し し, れ た き き 発 し し し し し し し ● 歯ぐき マ ッ サ サ し な がら 込む 込む 込む 込む 込む 込む

【Effective effect】

Relief of symptoms such as meatitis and pustules in the groin (bleeding, redness, pain, pain, jaundice, mouth odor, bad breath), endooral inflammation

【Dosage】
Flesh inflammation and pustules in the groin: 2 times a day (morning and evening) after ブラッシング, an appropriate amount (about 0.3g), and rubbing it on the chin.
Oral inflammation: 2 to 4 times a day, apply an appropriate amount to the affected area.

★Usage and dosage are related and careful
(1) In the case of small children using させる, には, guardian's guidance and supervision no もとに use させること
(2) Use にのみ for 歯科にのみ

【Element】

100g medium ヒノキチオール: 0.1g
セチルピリジニウム塩 chemical water and material: 0.05g
グリチルリチン Acid Dikarima: 0.4g
アラントイン: 0.3g
Additives として, エデトacid Ca/2Na, クエンacid, ポリソルベート80, ヒプロメロース, CMC-Na, ハッカ oil, キシリトール, プロピレングリコール, l-メントラン, green No. 3, yellow No. 4 (with fragrance).

【Precautions】
★Talking about すること
1. Before use, please talk to doctors, dentists, and medical practitioners
(1) Physician's treatment recipient
(2) 薬などによりアレルギー symptoms
2. After use, the symptoms of the second time, the possibility of side effects, the possibility of side effects, the discontinuation of use, the treatment of the product, the doctor, the doctor, the doctor, the doctor, the registered dealer, the relationship between symptoms: rash, red, かゆみそのother: abnormal taste
3.5 to 6 times of use

★Caution on storage and retrieval
(1) When the sun shines, it is wet and wet, and it is cool.
(2) 小児の手の偋ないところに Keeping すること
(3) His container is replaced by えないこと (the reason for misuse is になったりQuality が変わる)
---
We Also Recommend
---