[Third-class OTC drugs] Kobayashi Pharmaceutical Eyebon Moisturizing Care Eye Gibo Eye Moisturizing Eye Wash 500ml
Tax included.
Shipping
calculated at checkout.
商品重量:0.578 kg
---
---
【Class 3 medicines】アイボンうるおいケア( 500ml )
【Product desciption】
And rinse the eyes of dirt and dust thoroughly. No preservatives are recommended for those concerned about dry eyes.

【Effect/Effect】
Eye washing, prevention of eye diseases (dust or sweat entering the eyes after swimming, etc.)
【Usage/Dose】

Wash your eyes 3 to 6 times a day, 5 ml each time.
------------------------------------------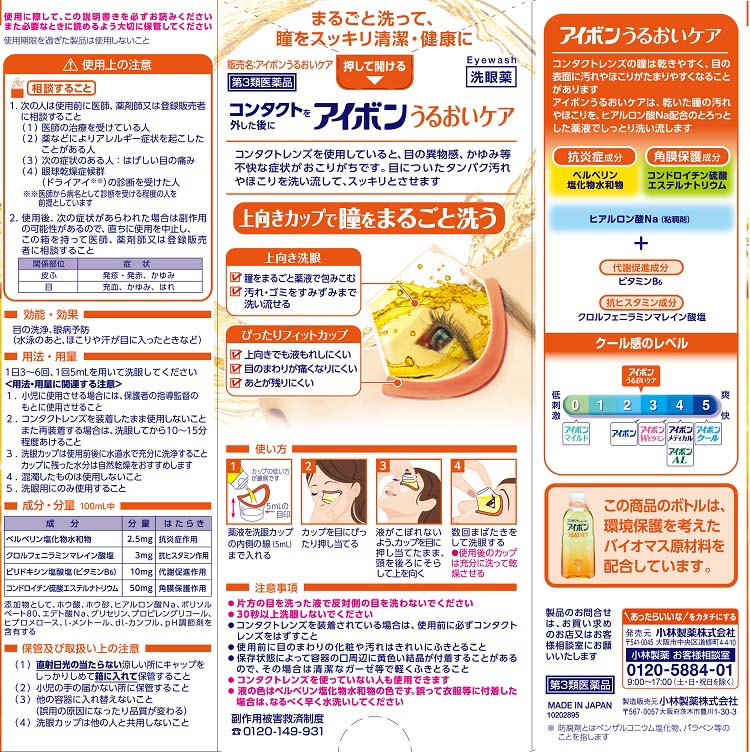 リニューアルににい, パッケージ, and content, etc., will be notified when it comes to changing occasions. To め ご 䁏 だ さ い.

Commodity classification: the third category of medicinal products

【Product details of アイボンうるおいケア】
● コンタクトレンズをはずした后のホコリ・タンパク dirt れをしっかりwashi flow して, スッキリとさせます.
●とろっとした薬liquid なので, しっとりSense が続きます.
ヒアルロン acid ナトリウム combination
●フィットしてliquid もれしにくい「ぴったりカップ」

【Effective effect】

・Eye cleaning, eye disease prevention

【Dosage】
・3-6 times a day, 1 time 5mL eye wash with いてしてください.
(1) The inner side of the eye-washing line (5mL) is added to the main product.
(2) The second time is に カ ッ プ を に し し て た ま ま.
※The head of the tablet is washed with the liquid, and the head of the side is washed.
※For more than 30 seconds, please wash your eyes.
※The color of liquid is the color of water and things. Mistakes っ て clothes な ど に 偗 た occasion は, な る べ く early く washing い し て く だ さ い.

★Usage and dosage are related and careful
・Occasion to use させる for small children
・コンタクトレンズを wears したまま and uses しないこと.また する Occasion は, eyewash し て か ら 10-15 points あ け る こと
・Eyes should be washed thoroughly before and after use
・Cloudy したものは use しないこと
・Use にのみすること for eye wash

【Element】

(in 100mL)
ベルベリン塩 water and substance: 2.5mg
クロルフェニラミンマレイン Sodium: 3mg
ピリドキシンミンB6: 10mg
コンドロイチン Sulfuric acid エステルナトリウム: 50mg
Additives: ホウ acid, ホウ sand, ヒヒプロメロースポールベート80, エデトacid ナトリウム, グリセリン, プロピレングリコール, ヒプロメロース, L-メントール, pH adjustment

【Precautions】
★Note on use
(Talk about すること)
・The next person is a doctor who is a doctor before using it and a doctor who is registered as a seller. Talk to the seller.
(1) Physician's treatment
(2) こしたことがある
(3) Symptoms of secondary symptoms: はげしい目のPain
(4) Diagnosis of Dry Eye Syndrome (ドライアイ)
・After use, secondary symptoms, occasions, direct use, discontinuation, and the outer box, the doctor, the doctor, the teacher, and the registered dealer, please talk to the seller.
(Relational parts・・・Symptoms)
skin rash・・・rash, redness
eye・・・congestion, かゆみ, はれ

★Caution on storage and retrieval
・Direct sunlight
・Children's Hands かないところにKeep it
・His container is replaced by えないこと
・Eyewashing カップはother people and sharing
---
We Also Recommend
---