TUNEMAKERS Konjac Exfoliating Scrub 8g
¥1,756

¥1,756
Tax included.
Shipping
calculated at checkout.
商品重量:0.07 kg
---
---
【product description】
#rough nose#cleaning blackheads

Japanese minimalist skin care concept, giving only the necessary and most effective ingredients to the skin.
× no coloring × no fragrance × no alcohol
Konjac is 100% Konjac root extract.
Not only has a frosted effect,
The surface of the konjac also has the ability to absorb and completely remove the dirt deep in the pores with moderate elasticity.
In addition, the spherical shape of the abrasive grains will have a moderate elastic feeling due to the moisture content.
It does not irritate the skin and can also be used on sensitive skin.
Washes gently without harming the skin.
In addition, a bouncy touch can be used while massaging.
Reduce the generation of blackheads, refine pores, and improve skin absorption.

【Instructions】
Method 1: After mixing an appropriate amount of konjac powder with water, the powder will become jelly-like. The hardness can be adjusted according to your own preference by controlling the amount of water added.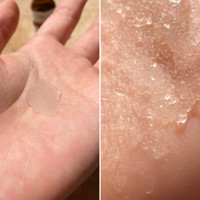 Focus on massaging nose, chin, cheeks,
Removes dirt and smoothes the skin.

Method 2: Add to cleanser and use.
First take an appropriate amount of scrub powder and water to make a jelly-like shape, then add 2-3 pumps of cleansing lotion , massage the parts with serious pores and dirt.
Finally rinse with clean water.
Please refer to the following link for more details on the cleanser ▼ ▼
TUNEMAKERS Ceramide Moisturizing Cleansing Lotion 150ml

【Element】
Glucomannan ※Japanese products are frequently updated. If you receive a product that does not match the detailed picture, please refer to the actual product you received. In addition, after cross-border long-distance transportation, the outer packaging of the product may appear indentation, micro-damage, seal (if any) detachment, and the date of printing may be worn due to scratches and collisions, but it usually does not affect the quality of the product.
---
We Also Recommend
---