[Class 2 medicines] Kobayashi Pharmaceutical Kampo ズッキノン Kampo blood-activating painkiller (powder) 14 packs/box
Regular price
¥1,891 JPY
Sale price
¥1,450 JPY
Unit price
per
Sale
Sold out
商品重量:0.056 kg
【Class 2 medicines】Kampo ズッキノン (14 packs)
【 Product Features 】

Chinese herbal formula for stiff shoulders or headaches. A Chinese herbal prescription consisting of 11 crude drugs relieves muscle tension in the shoulders and neck, regulates blood flow and treats persistent headaches.

【Dosage】
Take the following amount with water or lukewarm water before or after meals.
Adult (over 15 years old): 1 sachet twice a day
Not to be taken under the age of 15

【Ingredient content】Daily dose (2 packs: 4.4g)
Chitosan extract (1/2 amount): 2.5 g (crude drug equivalent)
(Chotokou 1.5g, Chinpi 1.5g, Hange 1.5g, Bakumondou 1.5g, Bukuryo 1.5g, Carrot 1.0g, Siler 1.0g, Kikuka 1.0g, Licorice 0.5g, Shokyo 0.5g, Sekko 2.5g)

---------------------------------------------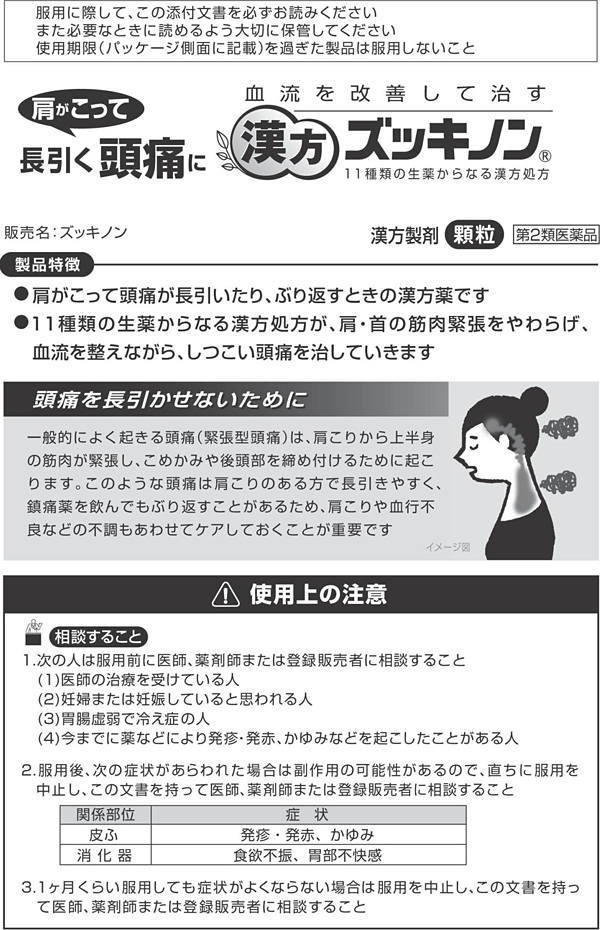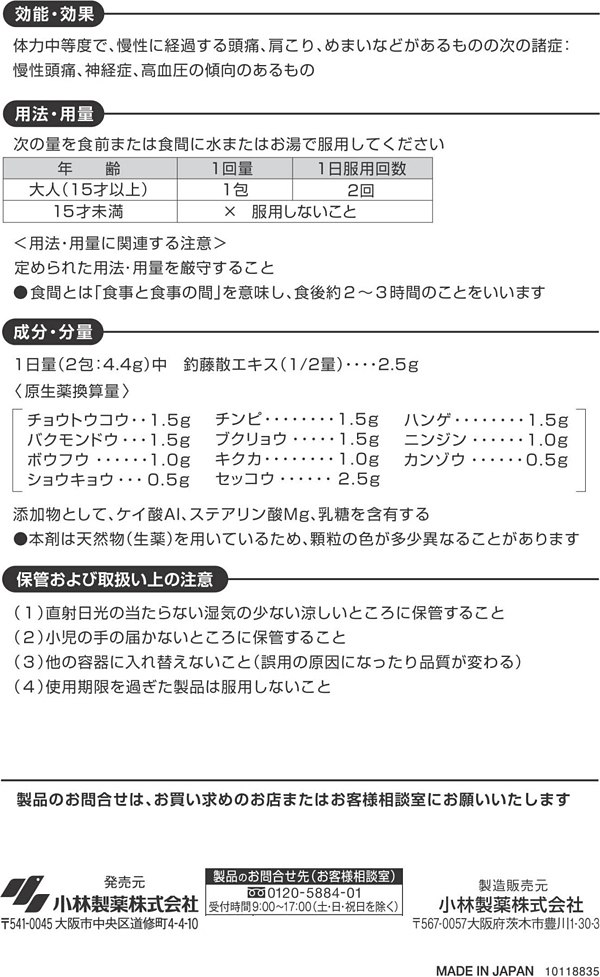 リニューアルににい, パッケージ, and content, etc., will be notified when it comes to changing occasions. To め ご 䁏 だ さ い.

Commodity classification: the second category of medical products

【Details of Kampo ズッキノンのProducts】
●Shoulder が こ っ て headache が long lead い た り, ぶ り すときの Kampo 薬です.
●11 kinds of Chinese medicine prescription, shoulder and head muscle tension, blood flow, and headache.

【Effective effect】

・The symptoms of moderate physical strength, chronic headache, shoulder pain, and pain: chronic headache, psychosis, high blood pressure

【Dosage】
・The amount of 1 time, 2 times a day, before eating, before eating, before eating, and taking it with water and soup
Adult (over 15 years old)・・・1 pack
15 years ago
★Usage and dosage are related and careful
・Destination められた usage ・Dosage
※Japanese のことをいいます のことをいいいます

【Element】

(During the daily amount (2 packs: 4.4 g))
Fishing Vine San エ キ ス (1/2 amount): 2.5g
(Converted amount of native buds: チョウトウコウ: 1.5g, チンピ: 1.5g, ハンゲ: 1.5g, バクモンドウ: 1.5g, ブクリョウ: 1.5g, ニンジン: 1.0g, ボ: ウフンウ: 1.0g, キゾウg, ショウキョウ: 0.5g, セッコウ: 2.5g)
Additives: AL, Mg, stearic acid, lactose ※This natural product (raw) is used, and the color of the particles is different.

【Precautions】
★Note on use
●Talk about すること
・Before taking the medicine, you should talk to the doctor and the doctor of medicine, and the registered seller should talk to you.
(1) Physician's treatment
(2) Pregnant women who are pregnant
(3) People with gastrointestinal weakness and cold symptoms
(4) までに斬などによりrash・智red, かゆみなどをこしたことがある
・After taking the medicine
(Relational parts・・・Symptoms)
skin rash・・・rash・redness
Digestive organ・・・Loss of appetite, upset stomach
・If you take it for 1 month, you should stop taking it, you should stop taking it, you should stop taking it, and you should talk to a doctor, a doctor, a registered doctor, and a registered dealer.

★Keep it safe
・When the sun shines on it
・Children's Hands かないところにKeep it
・His container is replaced by えないこと
・If the expiry date is expired, the product should be used, and the product should be used.