【Third-class medicines】KOBAYASHI Kobayashi Pharmaceutical ガスピタン Colon Regulator a (18 tablets/36 tablets)
Regular price
¥1,115 JPY
Sale price
¥880 JPY
Unit price
per
Sale
Sold out
商品重量:0.039 kg
【Third category of medicinal products】ガスピタンa
【Product Features】
・Intestinal medicine that regulates the condition of the stomach and unblocks the stomach.
・Digestive enzymes (cellulase AP3) decompose dietary fiber and inhibit gas production.
Antifoams (dimethylpolysiloxane) crush gas in the stomach and intestines and eliminate the feeling of fullness.
・Using three kinds of lactic acid bacteria (Bifidobacterium, Ficaris and Acidophilus) to regulate the stomach condition.
・A chewable tablet that can be taken easily at any time.

【Dosage】
・Adults (over 15 years old) 1 tablet each time ・Chew or dissolve in the mouth 3 times a day before or between meals.
*Interlude means "between meals", which means about 2 hours after a meal.

【Function effect】
・Intestinal regulation (stool adjustment), bloating, loose stools, constipation

【Ingredient content】In three capsules a day・Lactomin (Fecalis) 24mg・Increases the small intestine and regulates intestinal bacteria・Lactomin (Acidophilus) 54mg・Produces lactic acid in the small intestine to inhibit harmful bacteria・Bifidobacterium 24mg
・The large intestine produces lactic acid and acetic acid, which enhances the regulating effect of the intestines.
・Cellulase AP3 180mg
・Decomposes dietary fiber and suppresses gas generation ・180mg of dimethylpolysiloxane
・Crushes the gas generated in the intestines and reduces the feeling of fullness
---------------------------------------------------------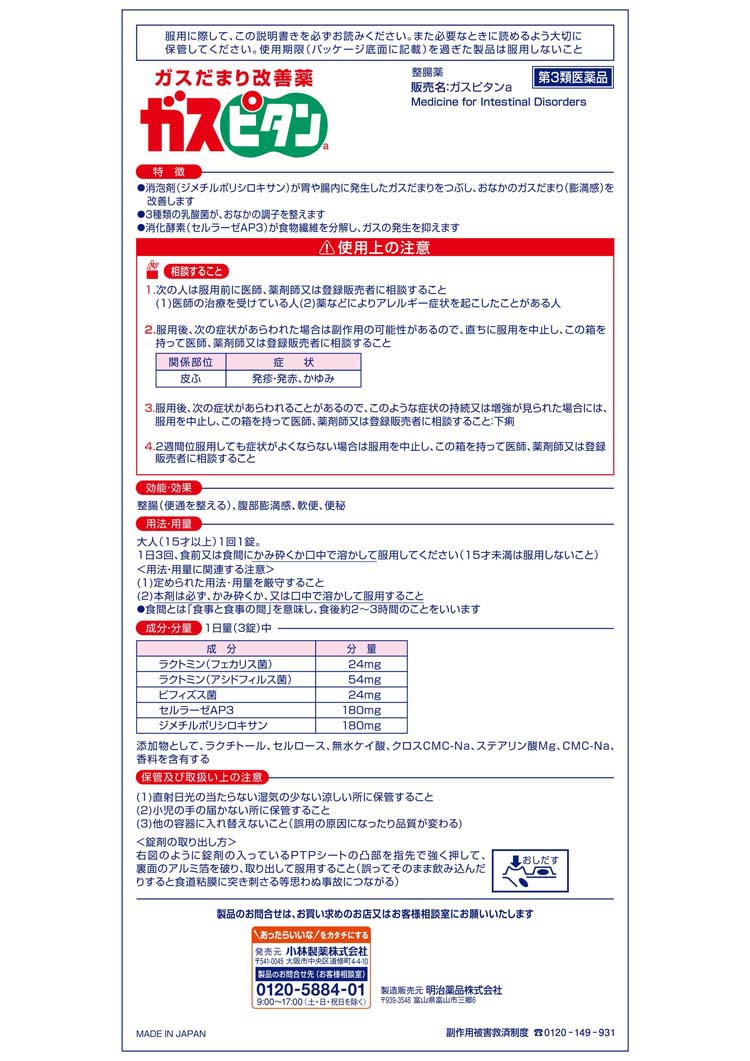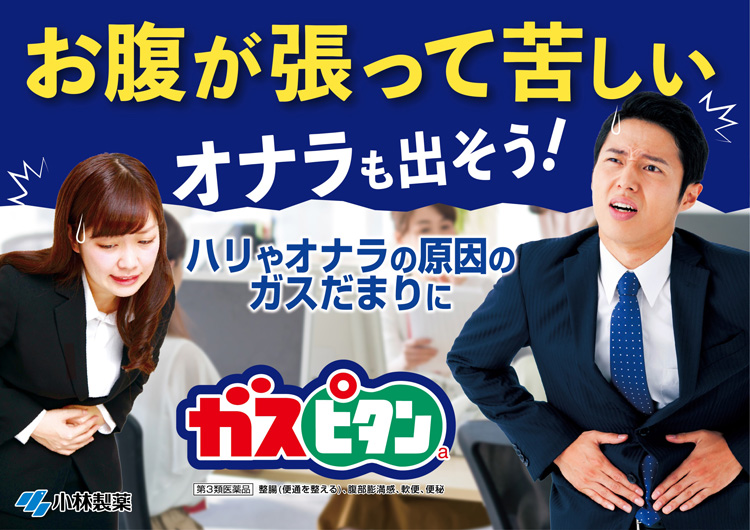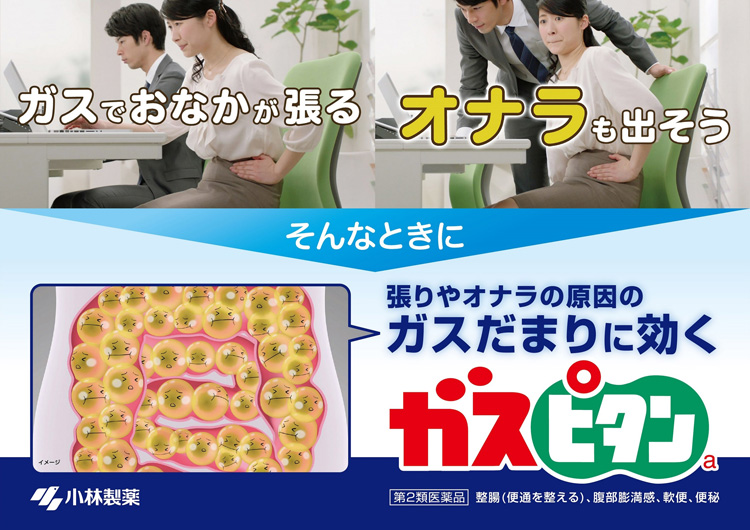 リニューアルににい, パッケージ, and content, etc., will be notified when it comes to changing occasions. To め ご 䁏 だ さ い.

Commodity classification: the third category of medicinal products

【Details of the product of ガスピタンa】
ガスピタンはおなかの tune を tune え て fast tune に し ま す.
●Digestive enzymes (セルラーゼAP3) の 働 き で food 繊 を decomposition し, ガスの発sheng を suppression えます.
●チュアブルなのでいつでも手廽にできます
●Anti-foaming agent (ジメチルポリシロキサン)の働きで stomach, intestines, swells, swells, and relieves swelling.
●Three types of lactic acid bacteria (ビフィズスビフィズスビフィズスフェカリスカリスフカリスカリスカリスフィルス bacteria) of the lactic acid bacteria are combined.

【Effective effect】


【Element】

1 day's supply (3 tablets) of lactomin (フェカリスbacterium): 0.024g
LACTOMIN (Asidofarus): 0.054g
ビフィズス bacteria: 0.024g
Celura ゼ AP3: 0.18g
ジメチルポリシロキサン: 0.18g