CANMAKE Souffle Four-Color Eye Shadow Eye Gloss Set
Tax included.
Shipping
calculated at checkout.
商品重量:0.028 kg
---
---
01 Gorgeous Rice: A variety of beige shades that match the skin
02 Rose Brown: cute, sexy image
03 Leopard Bronze: Funky Reddish Brown
04 Sunset Orange: A feminine deep orange
06 Smoky Powder: A touch of pink for a ladylike look
07 Peach Orange: A coral shade that creates a bright eye look
08 Strawberry Copper: Sweet and casual pink copper
09 Urban Khaki: Khaki color that gives the impression of maturity
10 Sweet Love Letters: Red, pink and beige that make you look loved
【Product Description】
Moist, long-lasting, high color! Bright and glossy eye color~
            
Melt into the skin, if there is a translucent eye color        
Contains illuminating oils for added radiance, lightweight and smooth texture that melts into the skin in one swipe
High color rendering, clean and translucent makeup effect, showing a clear and glossy feeling
Light texture, multi-layer application is not sticky, not heavy, allowing you to create a deep and gradual eye makeup as you like
Contains fine pearl particles to create an elegant look.

Rich texture                                            
Soft, comfortable powder that's as light as a soufflé
The powder is moist and has high adhesion, the eye makeup does not show powdery feeling, and the makeup effect lasts for a long time.
Contains beauty ingredients
                                    
Elegant makeup, not easy to take off   
The texture is rich and lightweight for easy application.
Double-ended design eyeshadow stick, the wide brush is suitable for applying eye shadow, and the thin brush is suitable for eyeliner.
Use a delicate sponge to ensure comfortable use without pulling on the delicate eye area.
【Instructions】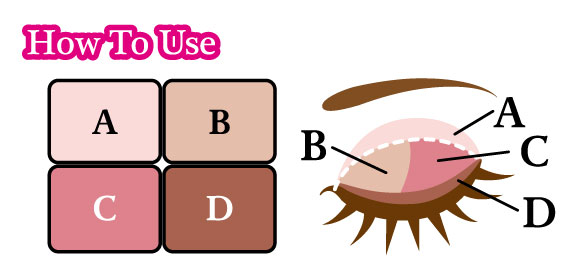 ★A is used for the tear bag, and the main colors of B and C are placed around 1/3 of the corner of the lower eyelid♡
★According to your own preferences, single color or three colors are ok

A base color: the entire eyelid
B Main color (light color): Enlarge the eye hole
C main color: blurred in the corner of the eye, giving a three-dimensional effect
D line color: draw the line as the fill color

Usage: Dip A, B, C with an oval sponge tip and brush it on the upper eyelid (as shown in the picture),
Then use the pointed sponge brush to take the D area, and draw the eyeliner near the upper lashes.
If your skin is different after use, please stop using it.
※Japanese products are frequently updated. If you receive a product that does not match the detailed picture, please refer to the actual product you received. In addition, after cross-border long-distance transportation, the outer packaging of the product may appear indentation, micro-damage, seal (if any) detachment, and wear of the date of printing due to scratches and collisions, but usually does not affect the quality of the product.
---
We Also Recommend
---