[Class 3 medicines] サロンパスAe サイズ Salonpas analgesic and anti-inflammatory low back plaster 12 pieces
Regular price
¥672 JPY
Sale price
¥510 JPY
Unit price
per
Sale
Sold out
商品重量:0.071 kg
【Class 3 Medical Products】サロンパスA ビタミンE Cooperative Judgment (12 pieces)
【Product desciption】
Has excellent analgesic and anti-inflammatory properties.
The soft material makes it easy to stick and prevents rashes.

【Usage/Dose】

Peel off the plastic film on the surface and apply it to the affected area several times a day.

--------------------------------------------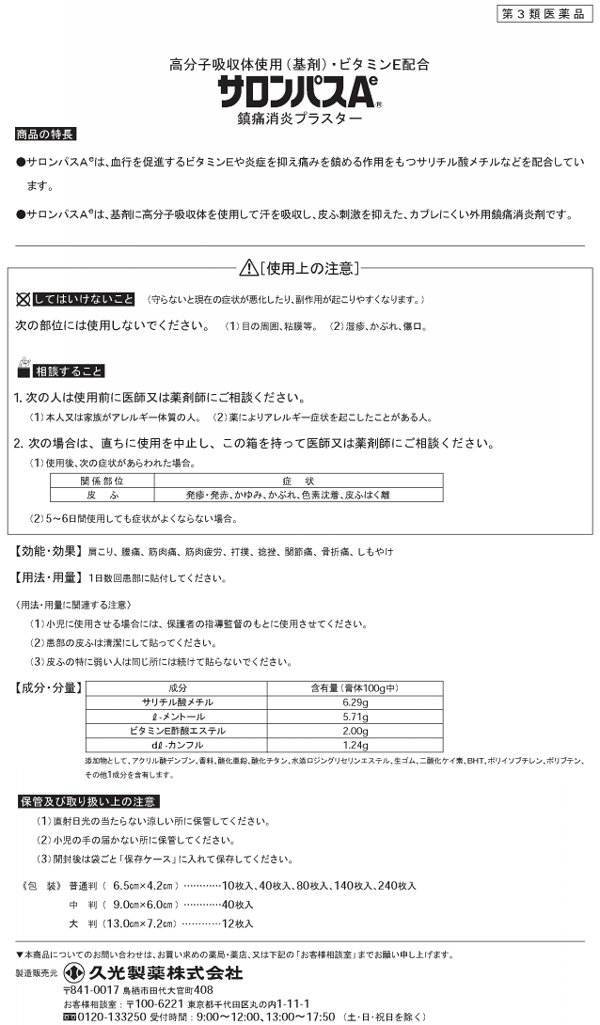 I will inform you about the ingredients and the パッケージがchange. To め ご 䁏 だ さ い.

リニューアルににい, パッケージ, and content, etc., will be notified when it comes to changing occasions. To め ご 䁏 だ さ い.

Commodity classification: the third category of medicinal products

【Details of the product of サロンパスA ビタミンE with the big judgment】
● サロンパスAEは, blood circulation promotion, inflammation suppression, pain suppression, and anti-inflammatory effects.
●サロンパスAEは, base polymer absorber, use anti-inflammatory and analgesic external use to absorb sweat, skin irritation, and anti-inflammatory and analgesic.

【Effective effect】

Shoulder pain, low back pain, muscle pain, muscle fatigue, fluttering, contusion, joint pain, fracture pain, しもやけ

【Dosage】
Posting on the affected part several times a day.
★Usage and dosage are related and careful
(1) Use させる には, and use させてください on the occasion of させるには.
(2) The skin of the affected area is clean and sticky.
(3) Skin の weak い 人 は 同 じ に は 続 け て ら な い で く だ さ い.

【Element】

Paste 100g Medium Sour メチル: 6.29g
L-メントール: 5.71g
ビタミンE acetic acid エステル: 2.00g
dL-カンフル: 1.24g
Add objects し ア, ア ク リ ル acid デ ン デ ン デ ン プ ン プ, spice, acidized lead, acidified チタ ン, Shuitian セ リ リ ン エ ス テ ル, raw ゴム, di -acid ケ ケ ケ ケ ケ ケ ケ ケ ケ ケ ケ, ポ リ イ ソブチレ ン, ポ ポ の 成 成 を を する する.

【Precautions】
★してはいけないこと
(Shou ら な い and present symptoms が 悪 Hua し た り, side effects and accidents が こ り や す く な る)
The second part is しないでください.
(1) The perimeter of the eyes, mucous membranes, etc.
(2) Eczema, かぶれ, wounds.

★Talking about すること
1. The second person should talk to the doctor, the doctor and the registered dealer before using it.
薬などによりアレルギー symptoms をこしたことがある people.
2. After use, the symptoms of the second time, the possibility of side effects, the possibility of side effects, the discontinuation of the use, the doctor, the doctor, and the registered dealer.
Relationship Site: Symptoms
Skin: rash, redness, かゆみ, かぶれ, pigmentation, skin rash
3. Use it for 5 to 6 days if you have symptoms and symptoms, and if you use it, please stop using it.

★Caution on storage and retrieval
(1) Keep it in the place of direct sunlight.
(2) Small children's hands are kept at the place where they are kept.
(3) His container is replaced by え な い で く だ さ い (the reason for misuse is に な っ た り, the quality is が 椉 わ る こと が あ り ま す).
(4) After opening the bag, please keep it in the bag.